EVO Cam II (Full HD)
Inspection without eyepiece – perfect details in the shortest time!
Objects are automatically focused and displayed with high depth of field on the monitor. Modern digital technology delivers fast and reliable results for component or object testing in the fields of electronics, automotive, precision mechanics, medical technology, plastics and many more.
The EVO Cam II digital microscope can be configured for a wide range of applications in the production environment as well as in the laboratory and QA.
flexible design of the operating distance
large field of view
different tripod variants, lenses, polarisation filters
various illumination
sliding table
provide a suitable user-specific solution.
Convenient operating features as 
create profiles for camera settings and measurement parameters
display overlays, scalable grids, virtual calipers and comparsion images
provide fast and reliable evaluation of objects.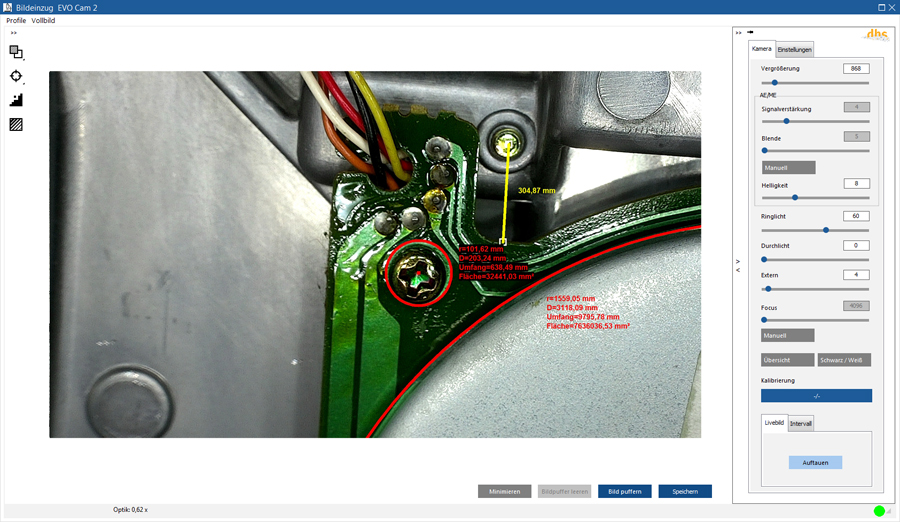 dhs Imager Acquisition Module for EVO CAM II
Special features
Interval shooting
Reticule
Image comparisons on top of each other in the live image
Shading, artifact filter
Enlargement can be controlled via direct input of values
Show annotations in live image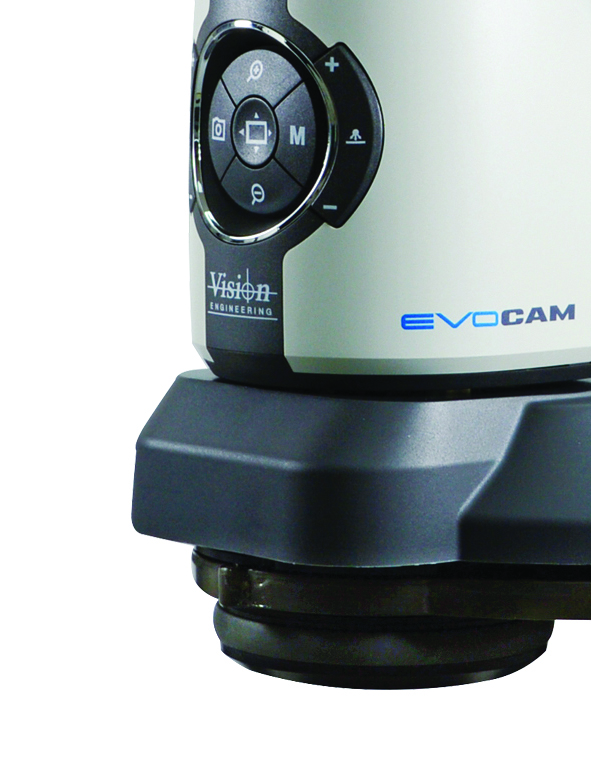 EVO Cam II Full HD 360° angle optics
360° all-round view with angle optic
(without moving objects)
hidden details on vertical components become visible
convenient change between the 360° rotatable oblique image and the conventional vertical view
with integrated 8-point LED-Ringlight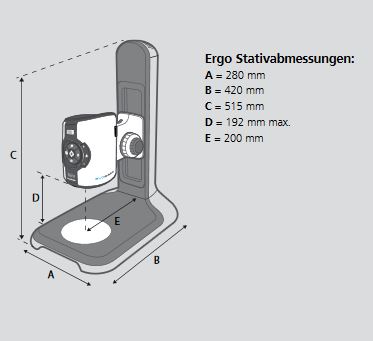 Technical information in the overview
Optical magnification 1.7x – 300x
Max. Magnification with digital zoom 3600x
Clear images without motion blur
Large field of view, flexible operating distance
Optical equipment individually configurable, e.g. with 360° angle lens
Fast image transfer with WiFi and USB 3.0
Automated operation through camera presets
Connection to dhs software for professional image processing and analysis for reproducible results
Convenient and time-saving reporting with the dhs software
The digital dhs-world!
The EVO Cam II digital microscope is perfectly integrated into the dhs software. With the right dhs tools for professional image processing and analysis we offer all possibilities for digital image processing and documentation.
We will be happy to advice you and work with you to put togehter the right configuration – contact us!
Detailed information can be found in our
| | | |
| --- | --- | --- |
| | Data sheet Digital Microscopy and Accessories EVO Cam II (PDF: 398 KB) | Download |